Seed Parcel (Main)
Achocha
Lady's Slipper (cyclanthera pedata) – Was one of the Lost Crops of the Incas. Fortunately they have been found and they are actually really easy to grow in the UK. These peculiar fruits are distantly related to squashes and cucumbers and taste like dry cucumbers. Young fruit are good in salads and usefully appear at a time when most garden cucumbers have succumbed to mildew. Older fruit (seeds scooped out) make excellent stir-fry or pizza topping material. Pickling also works well. The plants are very fragile looking and scramble up any support they can find, clinging on with their tendrils. But there is nothing fragile about these plants, they grow like triffids!
Their yield is very high relative to plant size. I sow them indoors like squashes and plant outside after the frosts are gone. The first batch of Lady's Slipper seeds I received produces very late in the year from late September onwards. They are day length sensitive and come into their own fruiting from around the equinox to the first hard frost. However I received another batch of seeds which seem better adjusted to UK conditions. These fruit earlier, from August onwards and this is the batch I used for circle seeds. A bit more information.
Allium
Babington Leek (allium ampeloprasum babingtonii) – The bulbs are similar to elephant garlic, although not quite as large. There are two to three large cloves in each bulb. They store for a long time. The flavour is garlicky, but not overpowering and the cloves are easy to peel. Babington Leek is a triple use vegetable. The young foliage can be used as garlic chives or leek substitute, the bulbils can be used like garlic cloves, no peeling required, they go straight into the garlic press. And finally the large bulbs. It takes two, sometimes three years for a bulbil to grow into a mature plant, which flowers and produces bulbils in turn. When the plants flower, they also form bulbs underground. They are fully hardy in the UK and need their own corner in the garden, as they cannot be incorporated in a crop rotation system because of their perennial nature. Please plant out straightaway and label where they were planted, because they can be a little slow to emerge.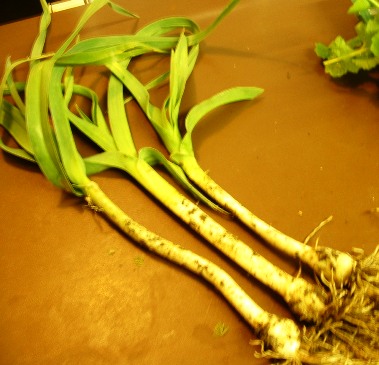 Egyptian Walking onion Catawissa allium cepa proliferum -Normally I separate the clusters into individual bulbs, to give the plants a better start. The bulbils are reddish and between 5 and 20mm in diameter, a cluster usually between 5 and 10 bulbils. The bulbils root in late summer and overwinter easily in the UK. The following year they grow into large plants with hollow stems and can be harvested like spring onions. Either in the second or in the third year, they will develop a scape (flower stalk) . Instead of flowers and seeds, they form clusters of bulbils. Usually, out of a cluster a second scape develops and produces another, slightly smaller cluster, and occasionally even a third. As the bulbils swell, the scapes become top heavy and bend over, depositing the bulbil clusters a few inches away from the original plant, They appear to have 'walked', As scapes develop overground, the original bulb splits underground as well. If the plants are well spaced, these split offs can approach shallot size. A very useful vegetable, the young bulbils are excellent in salads with a good oniony 'bite', also good for pickling, the young stems are used like chives, first year plants resemble spring onions, lastly the split off bulbs are used like shallots. A perennial which needs a dedicated place in the garden. Very easy to grow and undemanding, but for the largest split-offs a little more tlc is needed. More information  at Gary Roberts.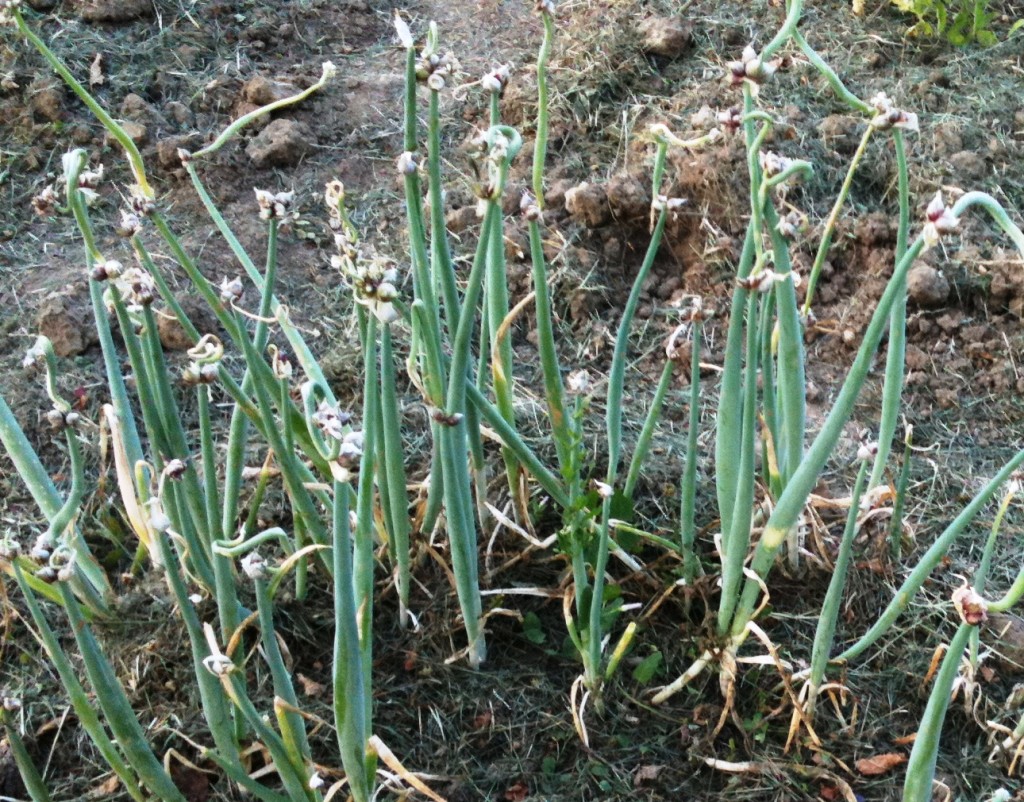 Please plant up as soon as possible, either in a pot or straight into the soil.
Stamme Onions – Irish Seed Savers  (ISSA) distributed seed for this variety as part of their members trials. The seed originally came from Wellesbourne gene bank and was donated to them by an onion enthusiast. These are seeds of subsequent grow outs of these onions from ISSA, I note from their site there was some variation in colour of onion mostly in colour, mostly yellow with a few red., so some segregation may still be possible I find the onions grow well from seed and become quite large, they keep well.
Beans, Broad – (Vicia faba)
Un-named Broad Bean – Donated to the group by Robert Brenchley. " A Landrace from California. I don't know anything more about it."
Vitelotte – These are gorgeous looking deep purple seeds, sent by Ruud.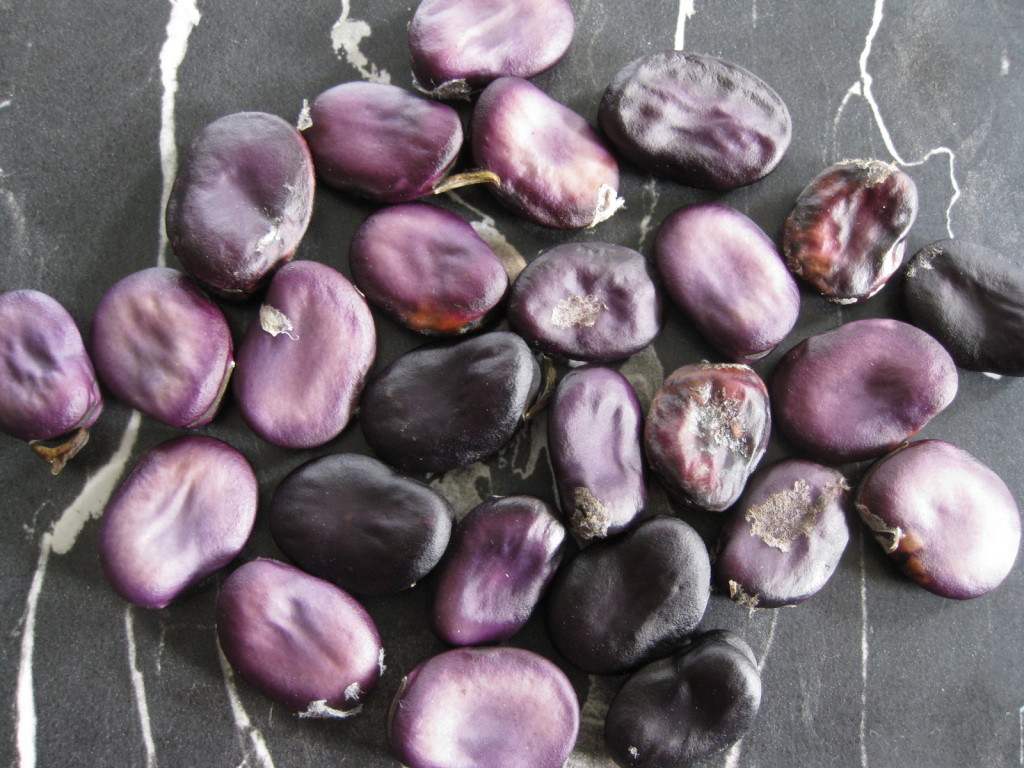 Climbing  French Beans – (phaseolus vulgaris)
Bonne Bouche – (Markfield Rover), Description from HSL) "Originating in the Rouen area of France in the 1950s, this vigorous ex-commercial variety would look lovely on a wigwam support with its pair of delicate white flowers and large green leaves. The long green pods have a slight red stripe and a really great flavour."
Major Cook – (1066) Description from HSL catalogue: "This bean was given to our donor, Mr Luxton, by his father in 1960. Mr Luxton senior had been given seeds of this variety by Major Cook, a colleague of his during his work for The Commonwealth War Graves Commission in the 1920s. Major Cook is thought to have developed the variety. Pretty purple-violet flowers are followed by stringless beans with a very fine flavour. Seed Guardian Rebsie Fairholm says the beans are excellent fresh or dried – prolific and high yielding – absolutely love it!"
Succotash – (jayb)  The dried seeds are very unusual to look at, they resemble purple/black sweet corn seeds, perhaps more than bean seeds! You have to look twice to be sure it is a bean.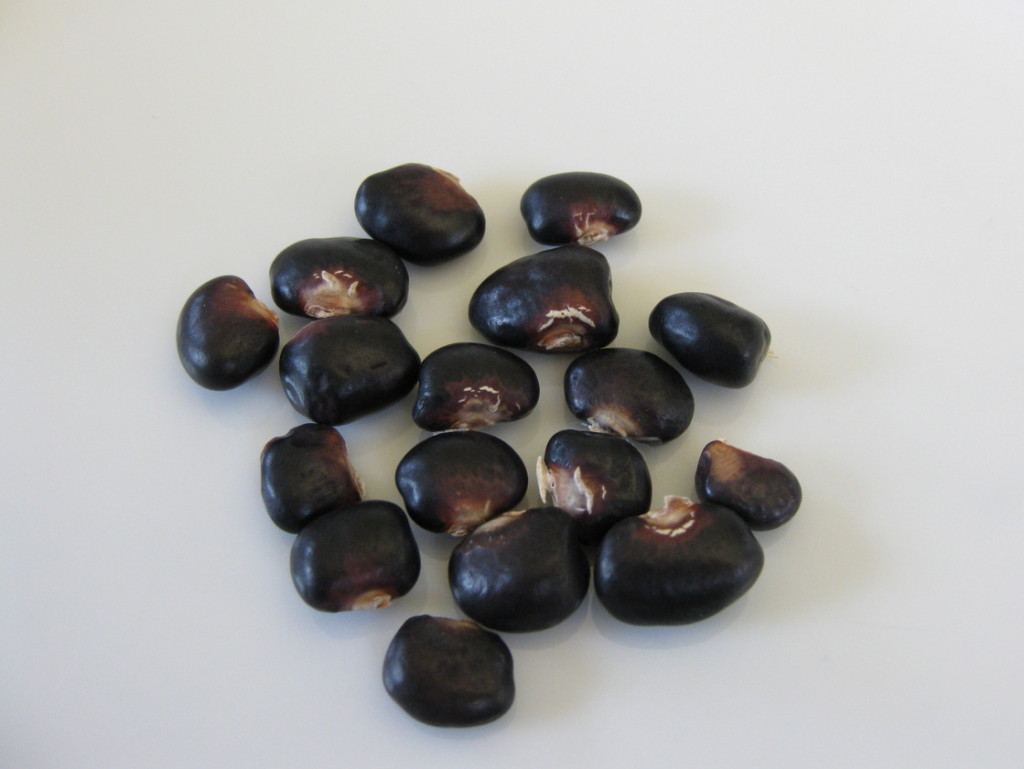 Somewhat late to produce, but lovely tasty shelly beans that are well worth waiting for. They change colour from nude to mauve, then deep purple and finally almost black, but keep a creamy white eye. They look and taste excellent in the American dish – Succotash. Seeds originally sourced from Baker Creek Seeds.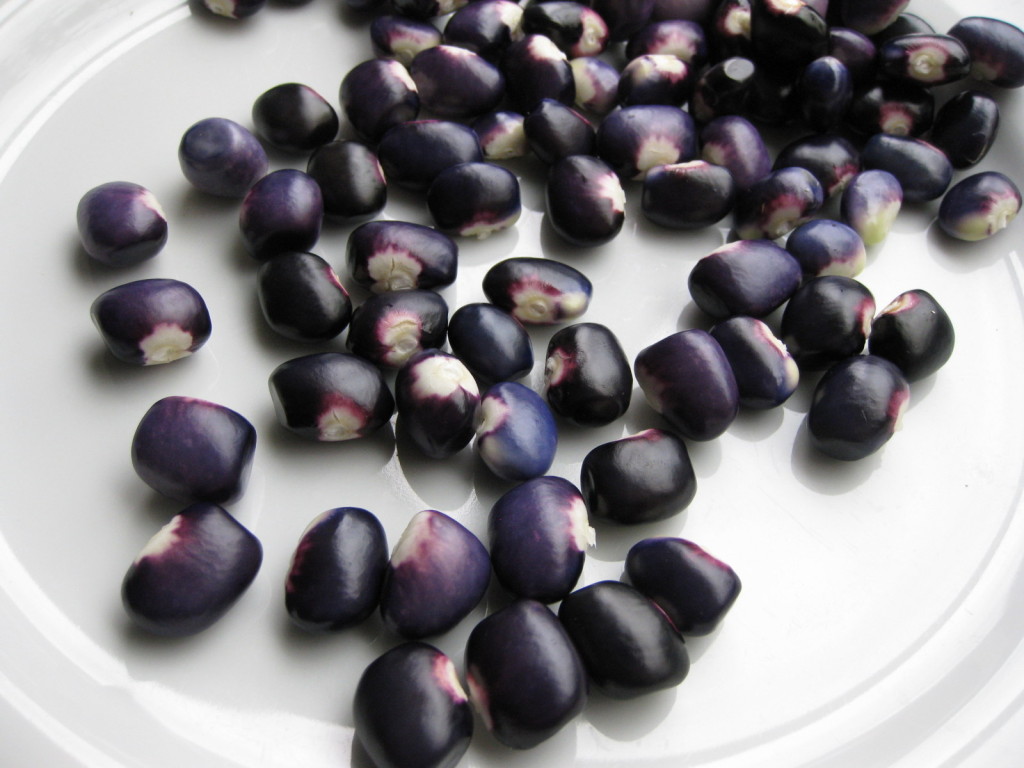 Trail of Tears Bean – Robert Brenchley. Originally grown by the Cherokee tribe, who took it with them on their infamous forced march to a reservation. Climbing French bean, prolific, thin walls and small black beans. Can be used for either green or dried beans.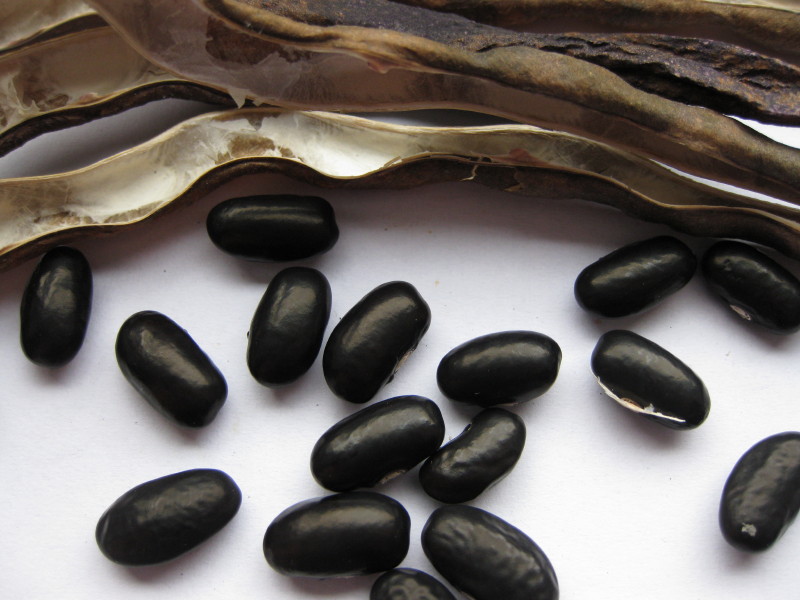 Runner Beans – (Phaseolus coccineus)
Mrs Connell's Black – (AJ). No information supplied with these. A black seeded runner from the HSL. Seeds look beautifully glossy black. I have a rogue coloured seed in my pack, pesky bees at work!
Beans French Dwarf
Swedish One Dot – (Goodlife) "A variety of bush bean that I had from Nordic seed-bank last year. It is shelling bean to be used in soups etc.
Magpie (Syn. 'Superlative') – (Goodlife) Bush bean for to use as green beans."A rare heirloom introduced from France in 1913 by Carter's Seed Company. This is a late variety producing strong plants and a good yield of attractive pods. These slim pods are best eaten young, however, they can also be allowed to dry when the attractive bi-coloured black and white seeds are ideal for soups and stews." Heritage Seed Library
Soy Beans
Envy – Also known as Edamame beans, these were grown and shared with the group by Dandytown, Growing diary at the bottom of the page.
Corn Z. mays
Painted Mountain – I'd read a lot about this flour corn before growing it, mostly from US sites.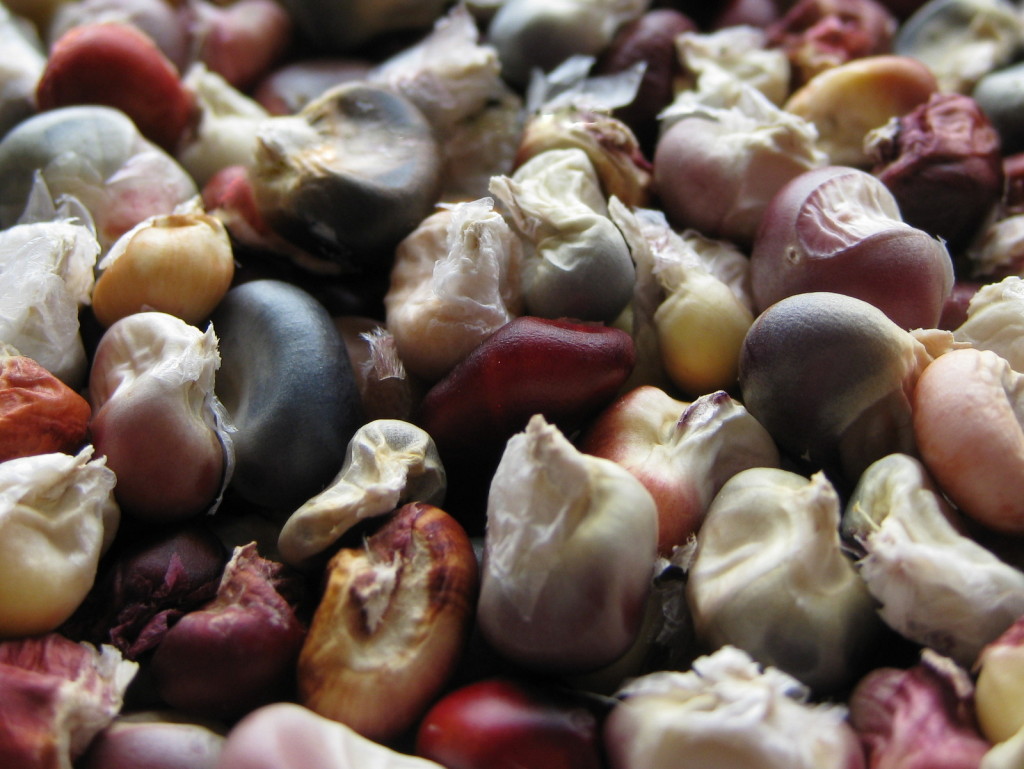 It is a multi coloured variety developed in Montana by Dave Christensen, to be cold tolerant and produce in cooler climates. It didn't disappoint and also managed admirably with the wet Welsh climate. I was surprised to find these started to tassel when they were still short, some only a couple of feet tall. They matured at about 4-5 foot tall and produced a good crop of cobs. The treasure is hidden inside, once peeled the array of coloured kernels are just beautiful to look at. I found they made tasty corn on the cob if picked young, delicious fresh or cooked quickly.  Left to mature they produce wonderful looking cobs for decoration or the seeds can be shucked and ground for colourful corn meal and flour.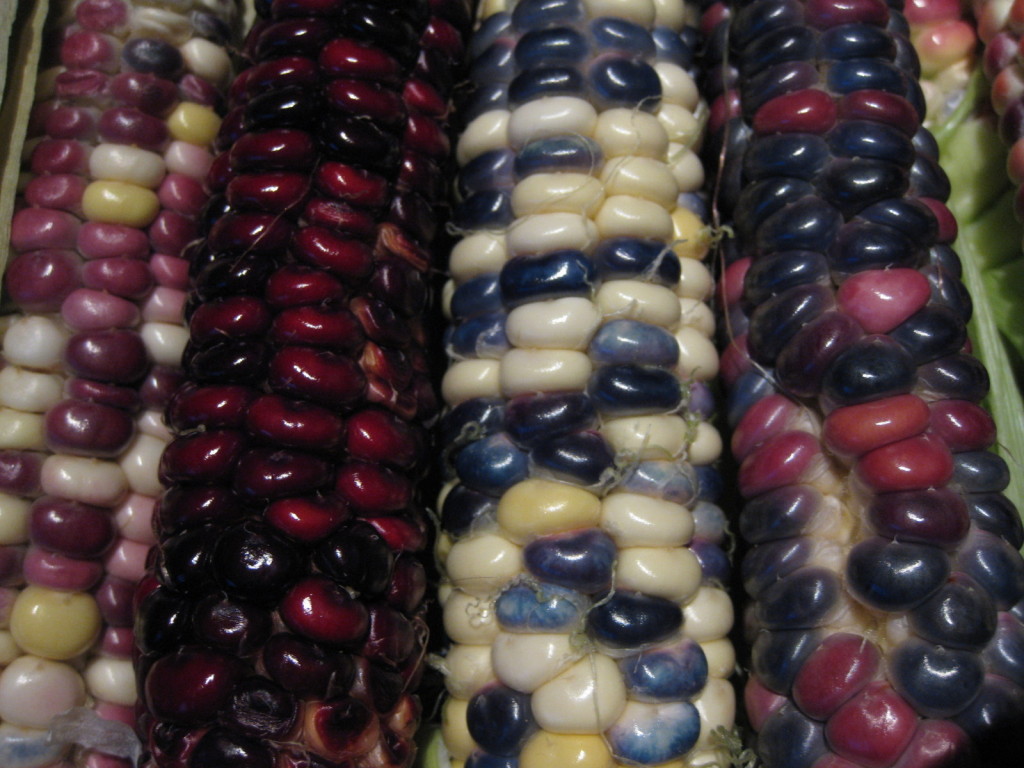 Herb
Angelica – (Robert Brenchley) Seven foot member of the carrot family. Biennial, self-seeds readily. The seeds probably don't have a great life expectancy, so plant next year unless you're freezing them. Use the young leaves and stems; it can be candied, but I've never tried it.
Borage – (SueK) A robust garden plant, the young leaves of which can be used in salads, the blue (but sometimes pink) flowers as edible garnish. Incredibly popular with bees, it also has value as an aid to pollination in protected environments. Readily self-seeds each year. More detailed information at Wiki. Grown originally from Franchi/Seeds of Italy seeds.
Dill  – (Pumpkinlover) "From a Swedish lottie friend, who says it is far better than ours!"
Italian flat leaved Parsley – (Pumpkinlover) "Flat leaved one from my plot- probably Italian and seems very hardy. It is still growing after last winter and keeps very well even in severe winters"
Quillquiña = Bolivian Coriander – (Goodlife) "It is utterly YUMMY!" And I can second that, taste is a bit hard to describe, having slightly corianderish taste, but with a taste of something else too.  It  is an annual that readily sets seeds, though they don't seem to have a long shelf life. I've found starting seeds off with a little heat the best way and with only a light covering of compost. They are easy to grow once the plants gets started.
Info from Real seed site."Annual herb to 4ft with pretty blue green leaves. It has a distinctive spicy sharp flavour and it is used much like coriander"
Kale – Brassica oleracea
Siberian Kale  – (Robert Brenchley). "A very hardy variety"
Nero di Toscana aka Black Kale –  (1066) "A classic winter Kale"
Lettuce – (Lactuca sativa)
Grandpa Admire's – (Galina) "This loose leaf lettuce was given to Seed Saver's Exchange by the granddaughter of George Admire, who was a veteran of the American Civil War. This is a summer lettuce, slow to bolt (makes seed saving a bit of a problem – apologies for low seed count) and very pretty in the salad bowl with the two tone leaves. More information here:
http://www.seedsavers.org/Details.aspx?itemNo=38(OG)
Pommee Brune d'Hiver – (Galina) "A small, traditional French winter lettuce, which survived well in the greenhouse. Reddish green leaves. Puts on a lot of new growth when the days are starting to get longer again. Recommended for the winter salad garden under cloches etc because of its hardiness, but just as nice grown in spring. My original seed source was Cedor seeds from France."
Parsnip – (Pastinaca sativa)
Avon Resistor (Ian Pearson). Dull but useful. I save it every year. Get ready for a big bag each (pass on the surplus – germination is poor if saved for a second year).
Peas and Mangetout
Golden Sweet mangetout – (Dandytown)
King Tut/Pran's Pea – (Markfield Rover).
Magnum Bonum – (HSL) Who describe it as follows "Dating back to the 1860s. Our donor, Dr Robb-Smith passed seed to HSL during the 1980s; his friend's family had grown the variety in Devon for many years. A strong, reliable and vigorous main-crop variety growing to more than 1.8m and producing an abundance of thick pods well filled with juicy, flavoursome peas that can be picked over several weeks. " This was the latest of the peas to develop Small pods and "traditional tasting" peas, not overly sweet, more old-fashioned is how I'd describe it.
Paula – (Goodlife) Small seeded Finnish cooking pea, another request received from Nordic seedbank. White flowering, climbing pea.
Salmon Flowered Pea – (Robert Brenchley) A crown or umbellate pea, with thick stems and all the flowers and tendrils at the top. Deep pink flowers; three feet, may need tying in. There's no record of the origin of this variety, but the type was popular from the late 17th to the early 19th Century.
Skånsk Märgärt – (Goodlife). Swedish marrowfat pea, landrace from Skåne area. White flowering variety, I'm not fully confirmed if it is just tallish variety or proper climber, be prepared to give some head room. I found it one of best tasting varieties eating raw, straight from the plant and they were best when the pods were really full and plump.
Stephen's Pea – (Dandytown) "Originating in Yorkshire this variety looks like a pea, but has a flavour similar to runner beans. It is a tall (2m), vigorous variety, producing bi-colour purple and maroon flowers, followed by purple pods. Seed guardian Ann Plummer says that they are 'magnificent'.(Description from HSL)
Suttons Purple Podded – (AJ)
Pepper, Chilli
Alberto's Locoto Rocoto –  (jayb) What a lovely plant to grow. Delightful slightly hairy leaves and gorgeous purple flowers, producing a mass of shiny deep green fruits which  ripen do a stunning deep red. Fruits are fleshy, good taste and really quite hot. The plants are somewhat slow growing to begin with, but do well by the end of the year, but they really come into their own if they are overwintered, when in the second year they make really quite big plants and produce an abundance of fruits for much of the summer and well into autumn.  Seed were sourced from Reel Seeds.
Chilli de Cayenne – (Pumpkinlover)
Small Unnamed Chilli  – (Twoflower)
Anaheim Chilli – (Poolcue)
Pepper, Sweet
Napia Early Pointy Red (1066) Seed sourced originally from Real Seeds and they describe it as " another incredibly early red pepper, with pointy red fruit and spirally curled-up tips like a Turkish slipper. It has really good thick, crunchy sweet flesh, & we like it best raw rather than cooked. It was brought to us by a Bulgarian student. Last year it did very well in our trials, coming ready in the very first group of peppers." A great description – and as with all homegrown peppers, it is sweet and tasty, with lovely thin walls.
Squash
Hungarian Zucchini – This is what happens when a small courgette is hand pollinated and left to grow to maturity for seed saving. A huge marrow! Just turning orange, which is its storage colour. This variety is a very easy-growing, high yielding green bush courgette. The fruits have white dots and are curved. The second picture shows a much younger fruit, long, curved and slender. My seed source is a seed saver from Colorado USA, who is very interested in Hungarian traditional varieties. Unfortunately I have no further history info on this variety and neither its original Hungarian name.
Georgia Candy Rooster Squash – (AJ).
Waltham Butternut – (Pumpkinlover) purchased seed.
Zapallito Squash  – (AJ).
Radish
Munchen Bier –
Rocket
Rocket – (Galina) This rocket was part of an Italian Salad mixture seed packet bought long ago, and I don't have a variety name. It is a large variety and has survived the last two very cold winters without problem with minimal fleece protection. Excellent flavour. One of the mainstays of my winter salad garden.
Extracting brassica seed (Rocket)
Cleaning rocket seed
Tomato Lycopersicon Lycopersicum
Alpatieva 905A – (Twoflower) A fairly compact dwarf, growing to 2' with tasty round red fruit and rugose leaves. Originally a Russian variety, seed source Victory seeds. jb
Beijing Yellow – (Ruud) a Chinese bred cordon variety. Large fruit ripen to orange, regular type leaves jb
Delhi – (Ruud)
Demidov – (Ruud) Another Dwarf with rugose leaves, from Siberia. Good sized pink fruit, tasty.jb
Dwarf Mr Snow – (Twoflower) One of the first dwarf varieties released for sale by the Dwarf Tomato Project in 2011 http://dwarftomatoproject.net/ Seed sourced from Victory Seeds. Fruits are a good size ripening to a beautiful pale yellow colour. Flesh is meaty, tasting sweet and good flavour. jb
Early Tanana – This is an Alaskan bred tomato. Originally bought from Denali Seeds in Alaska. A fairly short, indeterminate tomato, to 4ft , producing a large number of light red salad tomatoes, larger than cherry tomatoes. They will set fruit when nights are still very cool. I always get ripe outdoor fruit before blight strikes, however early blight happens. To say the flavour is outstanding would be an exaggeration, but they are nice enough and become really decently flavoured after a few warm and sunny days.
More information:
http://www.bestcoolseeds.com/catalog/organic-vegetables/organic-tomato-early-tanana-539-outdoorgreenhouse
Eli – (Ruud) A large red fruited variety, potato leaf cordon. jb
Green Bell Pepper – (Good life) Medium sized green stripy fruit. Cordon variety with regular leaves one to use for stuffing.
He-man rootstock – (Ian Pearson). The fruit is small and yellow, with average taste. Some sources say this is an F1 hybrid, but most do not. Who knows. I found them to germinate poorly and grow slower than most varieties, so best to sow a couple of weeks before the scion varieties so that the stems will be a similar thickness for grafting.
There is good information on grafting methods here.
Sorry, no photo
Koralik – (Poolcue)- I started off the Koralik indoors on the windowsill in March.They were very slow to germinate.In the end they sprouted and were potted on.I planted them in a greenhouse and ate my first fruit on 10th July.I am still eating them in November.They are quite sweet but the blurb below about being as good as Sungold is untrue.
Korol Rannikh – (Ruud) An early semi-det with large red beefsteak fruit. Originally from Siberia and the name means "The King of Early" in Russian. Seed originally sourced from Andrey Baranovski of Minsk, Belarus. jb
Latah – (SueK) Bush/Determinate variety. A splendid early tomato producing tasty small spherical fruit, originally bred at the university of Idaho, US for short season areas. Not the tidiest of plants, requiring some support and very sprawling, with widely spaced leaves to let in the light. Spare plants have always proved very popular here in Yorkshire! For more information and very positive reviews, see http://www.realseeds.co.uk/tomatoes_bush.html.
Grown outside in containers, from seeds originally from Realseeds.
Michael Pollan – (Ruud) A Wild Boar Farms variety developed by Brad Gates. Beautiful to look at fruits are green striped with yellow. Nice flavour and not overly sweet.
Monkeys Ass – (Ruud)
Orange Fleshed Purple Smudge – (PKL) Unfortunately senior moment and lost label so may be something else like the promised Elaine's mystery. I love a mystery but if they are Orange Fleshed Purple Smudge they will have regular leaves and grow as a cordon. Fruits ripen to orange with purple smudge shoulders (it's all in the name!) I found the purple colouration varied and is darkest in direct sunlight, flavour I found to be quite good. jb
Plumpton King – (PKL)
Prairie Fire – (SueK) Bush/Determinate variety, resulting from a cross between Sub Arctic and a beefsteak tomato. Compact plants, sets fruit early, bright red fruit with size varying from 3 to 5 oz, however still on the small size. We enjoyed the tangy flavour. I would agree with Tatiana's database that the production can be modest, but then have not had a good tomato year. Grown outside in container, from seeds originally supplied by nolottie.
NB Please note that these seeds came from a single plant.
Yellow Out Red In – (Ruud) A storage tomato/ long keeping tomato. A pretty bi coloured tomato, the yellow outer skin eventually ripen to a orangy-red, round fruits of good flavour. jb
Red Pear – (PKL) Indeterminate but still bushy, best tasting tomato I grew this year lots of clusters of sweet red pear shaped toms
Slovienian Black – (Ruud). Cordon, regular leaf. A good producer of medium size fruit some green shoulders, tasty good flavour. jb
Tasmanian Chocolate Dwarf – (jayb) Another of the first dwarf varieties released for sale by the Dwarf Tomato Project in 2011 http://dwarftomatoproject.net/ Seed sourced from Victory Seeds. A strong growing dwarf with rugose leaves on a 3-4' plant. No need to prune/pinch out side shoots. Produces gorgeous reddish brown-black fruit, lovely balanced flavour, sweet and juicy.
T.C. Jones – (Ruud). Not one I've grown before, but has good reviews. A late, regular leaf cordon, yellow medium sized beefsteak tomato. jb
Vova Yellow – (SueK) – Vine/Indeterminate variety. Mid-season regular leaf plant originally from Russia, producing beautiful small-medium golden egg-shaped fruit when fully ripe; we found they needed to be fully ripe for the best flavour. Grown in containers from seeds originally from Anioleka (UK). See Tatiana's Tomatobase for a better picture.
True Potato Seed
Blue Belle TPS –
Turkish Rocket
Turkish Rocket (Bunias orientalis). Perennial. Related to brassicas. Edible young leaves very early in spring, followed by lots of edible flowerheads like small broccoli. Very hardy, self-reliant, and ignored by pigeons in my experience. Here it is in spring…
The leaves get too hot during summer, but become usable again in autumn (chop off the growth a few inches above soil level to induce fresh young growth). It self-seeds easily, so best to remove flower heads as they form (eat them!). Watch out – this plant gets big- perhaps 75cm across by the end of the first year. Pfaf listing here.
Dandytown's growing diary
Edamame (Envy)
March 01, 2011
Contrary to general advice, I sowed my edamame (purchased as a pack of 40 from Moreveg.co.uk at the beginning of March and not in May as per recommendations. That said, the seeds germinated in 3 days (100% germinated, in root trainers in the airing cupboard), spent a further 11 days indoors, were re potted then spent 14 days in a warm GH before being transplanted in the ground into their final growing position in a cooler GH on April 1st. The ground was manured (not fully rotted) and had compost added. No fertilisers were used throughout the season.
12 plants grew nicely and produced a good crop of pods. However, through a combination of not being sure when to pick and partly through neglect, I left all the pods until they dried on the plant. As a result the whole crop was for seed saving. The seeds are yet to be counted but I estimate it being around 5 seeds per person (I could be more as it's the 'how many sweets in a jar guessing game').
Hopefully these will supplement Jeannine's Edamame and will give everyone a chance to compare varieties.
No pesticides were used on this crop and through neglect some plants were overwhelmed with greenfly. I sprayed a few with diluted washing up liquid. After pulling the plants my peppers really sprang to life and thrived.
June 02, 2011
Peas and Mangetout
March 04, 2011
Golden sweet mange tout and Stephen's Pea were sown not too long ago in root trainers and are starting to pop through the soil now. Sowed approximately 19 seeds of each, both varieties were kindly donated to me by Jayb. Something about peas germinating that I really like. Maybe it's because they pop up a nice bright healthy looking shoot as compared to the weed like seedlings of other veg.
May 09, 2011
Golden Sweet (left) and Stephens Pea (right). I really should have given these a bit more space. They were planted 'zig-zag' fashion about 2-3 inches apart. Next year I will give each variety the space it deserves.
Close up – 'In flower'
May 26, 2011
Golden Sweet (yellow pods) and Stephens Pea (purple pods) producing an abundance of pods.
June 01, 2011
More and more pods! I can't believe how productive these varieties are and I only started with 19 seeds of each. Must save for next year and grow double!
September 13, 2011
Well both varieties tasted good but I made a rookie error and didn't them when they were young and juicy and hence they matured and lost some of their sweetness and tenderness. On the plus side, I have tons of peas for the swap.
I podded and bagged the Golden Sweet over 6 weeks ago and look forward to sending everyone a bag with about 50 seeds in it. I have just finished podding the pea as I just couldn't face the job that I started over a month ago. I will bag them up soon. Maybe 30-50 seeds each for this variety.
I will need to check with Jayb if it is okay to be sending 50 seeds of each variety, taking postage into consideration.
Useful Reading
Back Garden Seed Saving, by Sue Strickland
Breed Your Own Vegetable Varieties, by Carol Deppe
Seed to Seed by Suzanne Ashworth. Covers a huge array of crops, again an American book although much is transferable
The Seeds of Kokopelli, by D. Guillet
100 Heirloom Tomatoes for the American Garden by Carolyn Male. (Although aimed at the American gardener and much of the book is dedicated to the 100 varieties (my mouth waters looking at the pictures) there are a couple of useful chapters Saving Seed and Creating your own Heirloom tomatoes.)
Helpful Web sites/pages:
Real Seeds, Seed Saving
Heritage Seed Library
Irish Seed Savers, Research
http://mapofsaltspring.com/raven/
The following url is aimed at schools, but there is a lot of information that is of general interest especially for new Seed Savers:
http://www.gardenorganic.org.uk/pdfs/Seed-Saving-in-Schools.pdf