Seed Parcel
Beans, Dwarf French
Black Turtle – Just a fine black bean, grows well and a good cropper. Great for black bean soup and a nice matt finish to this beautiful little bean. (aj)
Gauk – (earlypea) Description from HSL catalogue: This variety has been grown on the Island of Gotland, Sweden (Gauk being a farm) for more than 100 years. Pale pink and white flowers are followed by large green and carmine striped pods. Said to be adapted to harsh weather conditions and early to flower and pod.
Ice/Crystal Wax – (earlypea) Description from HSL Catalogue: Dating back to at least 1882, this Dutch-bred variety was used by the English as a forcing bean in hothouses (William Woys Weaver, 1997). Produces compact plants with white flowers followed by green pods that lighten with age to almost a silver-white with a mauve tinge. With a little imagination these give the impression of icicles. Good flavour and texture when cooked after freezing. Also dries well for use as a pulse.
Jacob's Cattle – These beans have beautiful looking seeds which ripen to a maroon and white mottled bean, also good to eat when young as a green beans. Some sources state this bean is originally from Germany and it appears similar or the same to Trout or Dalmatian bean. (Ruud)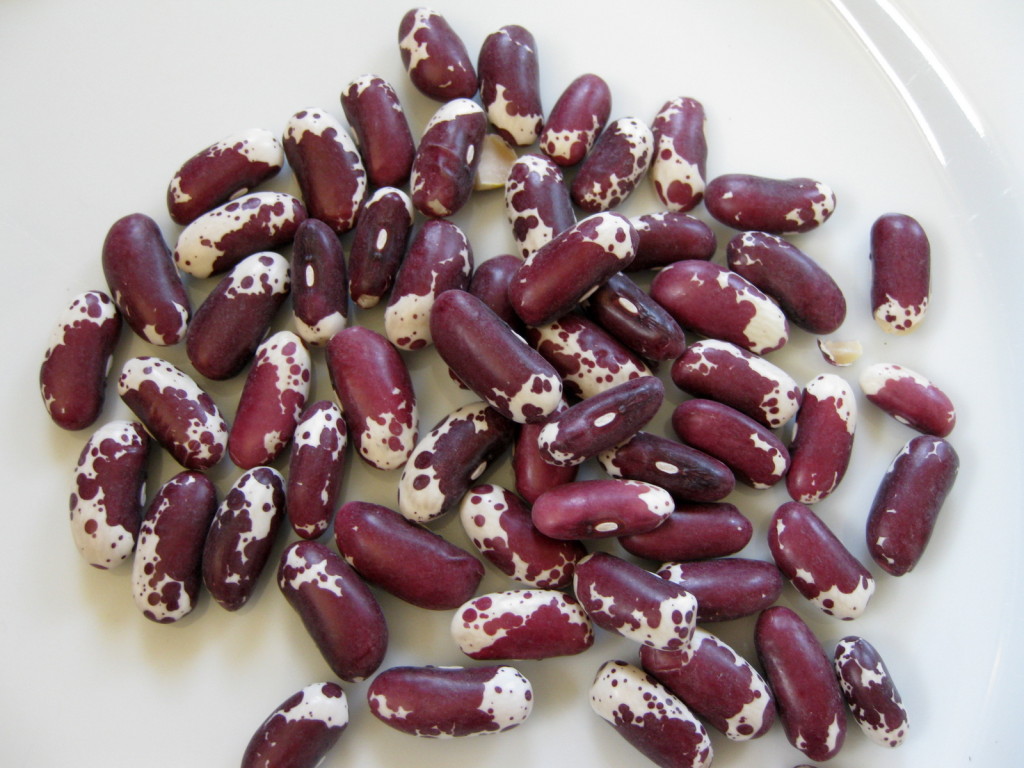 Yin Yang – Productive bushes producing tasty green beans when young or leave for yummy shelly/dried beans. 1066 says these she "got in a swap from A4A. I enjoyed eating it as a shelled bean, quite meaty in texture. Also known as Orca Bean" (1066) The dried beans have a striking half black and half white pattern, a few black splodges.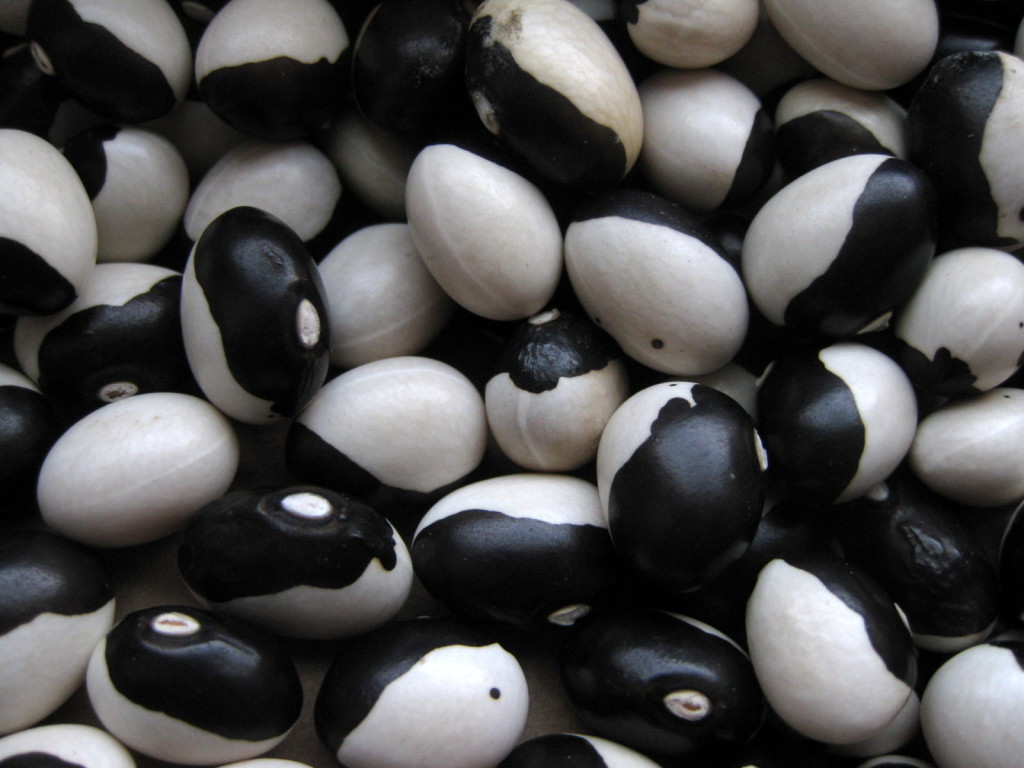 Beans, Climbing French
Bobis d' Albenga – A snap bean producing beautiful green and reddy/purple speckled pods. Medium to late Italian heirloom variety.(Ruud)
Greek Fasolia Gigandes – These beans produce best in a good season and are great picked as a fresh shelly bean, although they are mainly used for a dry bean having large white kidney shaped beans. They are a tall climbing bean and are good producers of flat green pods, about 13-18cms, each one contains 3-5 large beans. These can also be used as a French bean if picked young, otherwise grow on for the delicious large plump pods bursting with fat seeds. Ruud reports he obtained the original seeds from a Greek man when he was on holiday in Greece and the seeds for the Circle were grown in The Netherlands from these original seeds.
Kew Blue (earlypea) – Description from HSL Catalogue: "Originally from the Royal Botanic Gardens, Kew, this variety has been passed through at least three generations of our donor, Mrs Kelly's family. The purple-pink flowers are complimented by purple-tinged leaves and stems and followed by a prolific crop of tender purple pods. Perfect for eating fresh and when dried has a rich, nutty flavour."
Major Cook's Bean (earlypea) – Description from HSL catalogue: "This bean was given to our donor, Mr Luxton, by his father in 1960. Mr Luxton senior had been given seeds of this variety by Major Cook, a colleague of his during his work for The Commonwealth War Graves Commission in the 1920s. Major Cook is thought to have developed the variety. Pretty purple-violet flowers are followed by stringless beans with a very fine flavour. Seed Guardian Rebsie Fairholm says the beans are excellent fresh or dried – prolific and high yielding – absolutely love it!"
Mountaineers White Half Runner – I had the seed originally from the HSL. An heirloom German variety also known as Old Dutch Half Runners. (plot51A)
Mr Fearn's Purple Flowered – Again the seed originally shared by the HSL. "A very pretty bean, purple flowers. Green bean, nice texture and taste." (plot51A)
Neckarkönigin/Neckar Queen – A fairly recent introduction from Germany which produces tasty stringless green pods which grow to 28 cm long. The mature seeds are white (Ruud)
Polish Purple Stringless – Lottiedolly provided us with seeds for this bean, she also sent this Information from HSL Website; "Thought to be of Polish origin, this bean was passed to a Caroline Kenney, a friend of our donor, HSL volunteer Rob Croft, who passed some on to us. Grown for more than 40 years on the allotments in Broughton Astley, Leicestershire. It produces tall plants (2m+) with purple flowers followed by purple and green mottled, stringless pods with a great flavour. Seed Guardian Della Cannings says that they are a "superb performer. From a small number of seeds we had a huge crop" (lottiedolly). Edit; link removed as web page is no longer available from Heritage Seed Library.
Polebean – "A green podded bean which turns to purple if left to mature". (Ruud)
Ruud's Mystery Bean (Ruud) – This been is indeed a mystery! Probably a cross between a purple and a green pole bean (climbing bean). Dual use – picked young the beans are great to eat as a green beans (snap beans) and when the pods are older it makes a very good shelling bean. The mature beans look variable too, some look more like large French beans, others like runner beans.
Sweet Australian Purple – (Ruud) This is a very large, round, purple podded French Bean. Crops well and stays stringless even when the pods are older, although it is recommended to pick them younger.
Beetroot
Albino – An old Dutch variety having delicious sweet white roots. The tops are said to also be good to eat. No red = no staining! Fairly quick maturing variety. (Ruud)
Di Chioggia – I found this an easy to grow variety, with no problems noted. Particularly good grated raw and also tasty cooked, although the colour of the rings is not very clear when cooked. (The flowering plants were not netted but to the best of my knowledge no other similar crops nearby, no close neighbours. I sowed a few of the harvested seeds early Autumn, germinating was good. (jayb)
Cabbage
Delaway Cabbage – I'm looking forward to trying this variety of cabbage, as there is mixed information on the Internet. It is unclear if it is more of a collard type cabbage or a Kale? It seems there is interest from America, Canada and Australia. This is from Irish Seed Savers listing who have it in their catalogue "An Irish heirloom variety, saved for generations by the Hughes family in Co. Mayo. Exceptionally hardy cut 'n come again cabbage. Tall vigorous plant with large tender leaves and purple stems."
Irish Seed Savers  (Markfield rover)
Herbs
Cilician Parsley – Again a super description from Galina; "This is a mediaeval parsley variety from Cilicia, Armenia, now Turkey. I have called it flat leaf parsley, but the leaves are actually a unique maidenhair fern shape. Absolutely winter hardy and easy to grow. I sow seeds in warmth early in the year, about the same growing conditions as sowing tomato seeds, and they come up quite fast. Later in the year, they sprout very readily indoors or in the greenhouse before transplanting into the garden.
Wills Woys Weaver, the writer, seedsaver and gourmet cook, is credited with bringing this parsley to greater attention and extols its virtues, even ponders whether it is actually a different species from our usual parsley varieties." Dave's Garden Forum  (Galina)
Giant Fennel – Ruud describes "This fennel is growing up to more than 7 feet high. You are using the leaves and you can use the seeds for pickling." (Ruud)
Parcel – Simply a leaf celery. It looks and grows much the same as flat leaved parsley but has a super celery taste to it. I really like this herb, lovely in soups, omelettes, sprinkled on salads etc (jayb)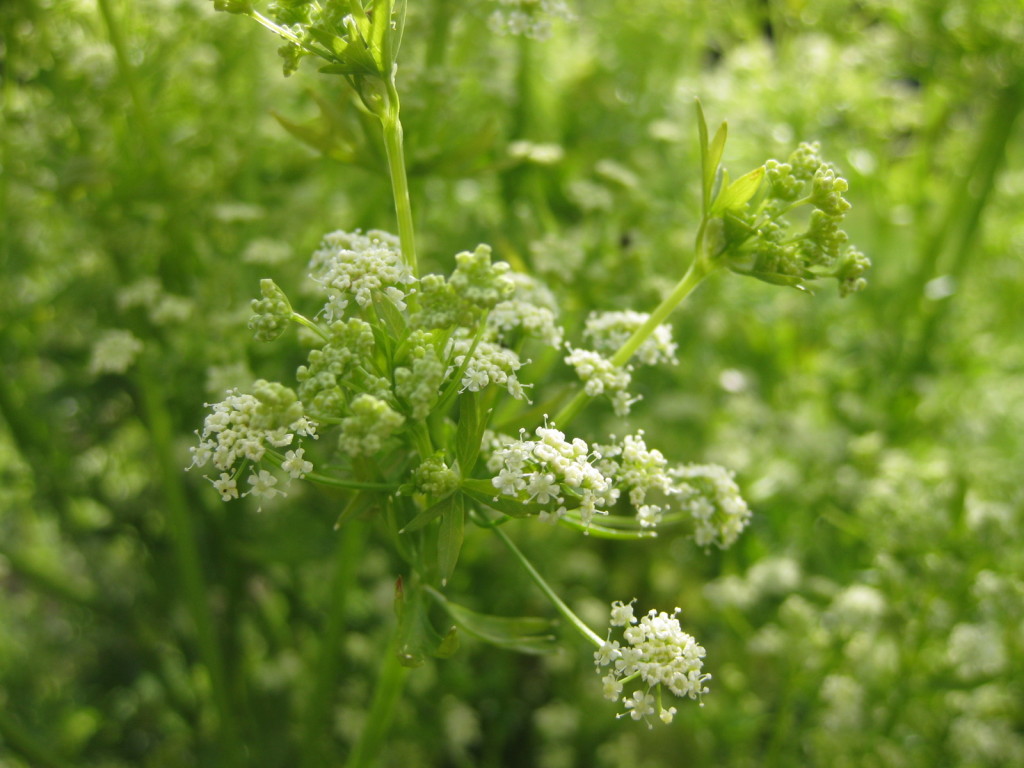 Leek
Bleu De Solaise – "Originally from Real Seeds: An old French winter variety – long leeks with blue-grey leaves. Hardy and very cold-resistant, it turns darker after frost. In a comparative trial against 'Musselburgh', it was noticeably more vigorous, growing faster & bigger, although the two varieties share a common ancestry. A good one for standing overwinter even in atrocious weather." (aj)
Lettuce
Austrian Greenleaf – A very early, looseleaf lettuce with frilly leaves. Gets fairly large before bolting. The best lettuce for really early indoors sowings to be transplanted under cloche outside. Occasionally self-seeds in the garden. (Galina)
Bologna – This is Galina's description, "Large lettuce with long, green, scalloped crisp leaves, similar to cos, but leaves are wider, crisper and more scalloped. Lasts well into summer before going to seed. This is a follow on lettuce from the early spring lettuces. Origin is Italy." (Galina)
Carnival Oakleaf  – My seeds were from the Heritage Seed Library several years ago now. It is called Carnival because there are all shades of colours represented. This year mine were mostly muted pastel colours on green. Very attractive. The base colour was a red over green, which looked like a shiny light brown. Others have described this as a red lettuce or even as a lettuce with dark green leaves and various colours overlaying that. It is very dependent on environmental conditions which colour tones come to the fore and if you squint a bit – it looks different again ……. This is a fun lettuce, looseleaf, with oakleaf type leaves and on occasion it will self seed. Hasn't been in the catalogue for a bit. A sample of this lettuce has been given by HSL to the Seed Ambassadors Project, been taken to the USA and may be more widely grown there than here at the moment. Fairly large and productive. Picture shows a young lettuce plant just out from under its bottle cloche protection. Unfortunately slugs love this variety. (Galina)
Lau Pointed Leaf – Another variety from Galina and this is her description for this variety "Comes from Malaysia, also eaten in China, where apparently it gets lightly cooked. The leaves are arranged around the stem looking a bit like a star. It is a looseleaf variety and I pull each dark green leaf separately and use them like a cos lettuce. The leaves are thick but not as long as most cos lettuces. The stem can also be eaten. As the name indicates, the leaves are pointed. This variety lasts fairly well into summer before bolting." (Galina)
Sylvesta – "Originally came from Nicky's Seeds. It is a Butterhead type and is medium to large in size. I found it excellent in summer as it didn't bolt like most other lettuce during dry hot spells. Sow April onwards" (1066)
Onion
Shimonita Bunching Onions – I found these good doers, they really do end up getting quite large and looking a little more like a leek than spring onion. Very tasty sliced in salads and sandwiches, great in stir-fries too. Really thick stems and lovely onion taste.  Bees love the beautiful flowers too.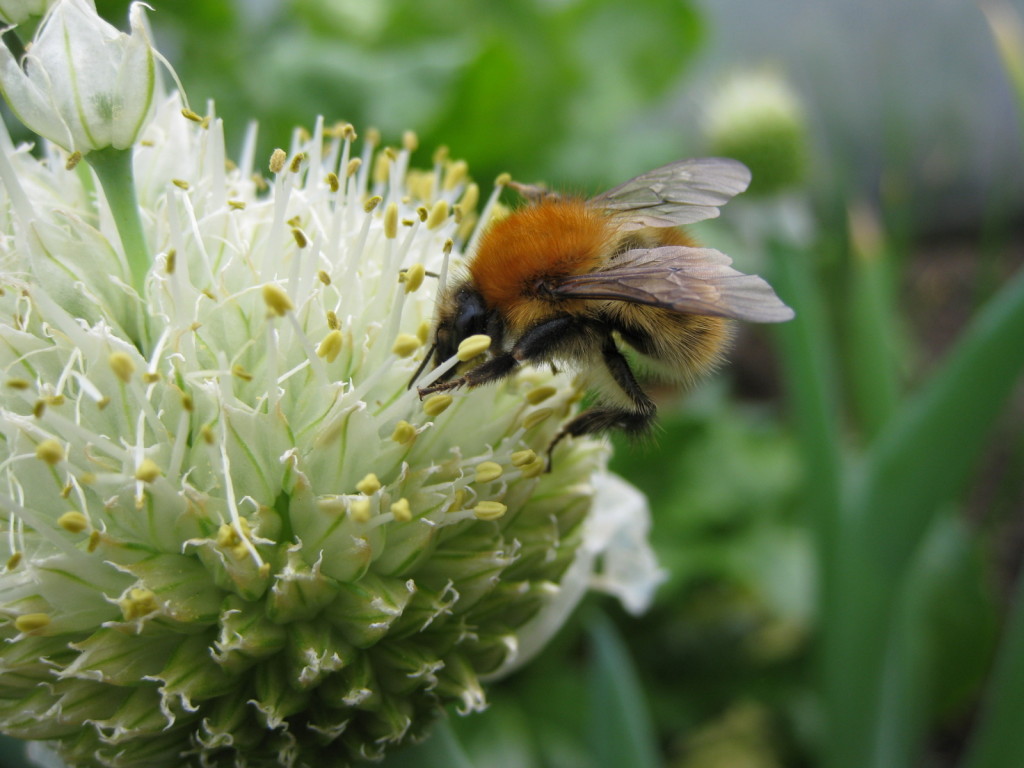 Parsnip
Tender and True – Reported to be an excellent variety, making lovely long roots. Great for gardeners as they have a good fine taste, smooth skins and have a good resistance to canker. But this is also one that has been used for exhibition.
Peas/mangetout
Carruthers' Purple Podded – I'm looking forward to growing this variety next year as I'm interested to see how it compares with other purple podded varieties I have. Robert suggests Daughter of the Soil  for a great description, "this site has a beautiful super review". (Robert_Brenchley)
Salmon Flowered – A stunning combination of salmon pink and white flowers, held in a crown like display at the top of 4 foot vines. Simply beautiful to see and the flowers are followed by a crop of tasty peas.
Serpette Guillotteau – "Growing to about five feet tall (on my plot anyway), with smooth seeds, white flowers and abundant sickle-shaped pods." (Robert_Brenchley)
Robinson's Purple Podded – Robert Brenchley wrote "An abundant cropper. The peas aren't sweet like modern green-podded varieties, but it's ideal for savouries. This is W. Robinson & Son (Seeds & Plants) Ltd description of this super pea "This attractive purpled flowered and purple podded pea dates back to the early part of the last century. Will reach a height of 5 feet and will taste as good as it looks." The company history is also a good read  History
Winterkefe mangetout – This variety is originally from Switzerland (via Irish Seed Savers). A tall growing vine with 2 tone purple flowers, followed by a heavy crop of tasty green pods. It is reported hardy enough to overwinter for an early crop the following Spring. I haven't tried this yet but I found they are strong growers from an early sowing, going on to give an early crop in south Wales. (jayb)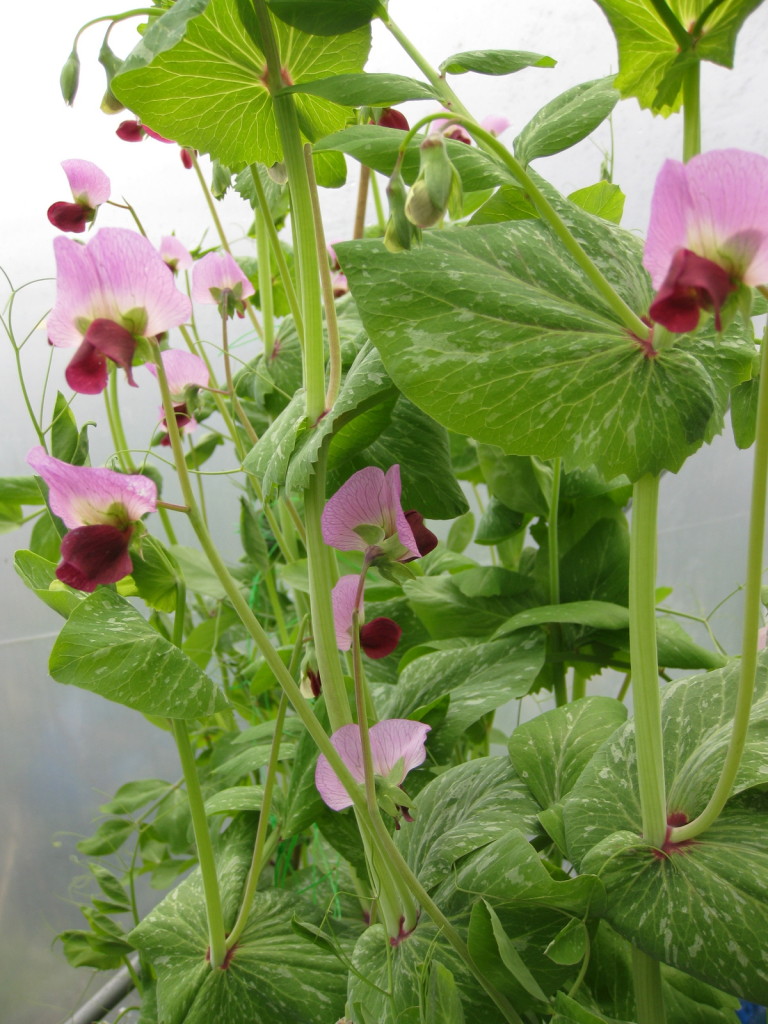 Pumpkin/Squash
Goldrush F1 – seed is from Franchi, and Ruud includes their description. "A hybrid yellow variety which is vigorous plant. Thick skinned and a great variety for using raw in salads. @18. Sow Mar-Aug. Featured by Carol Klein on the BBC series 'Grow your own veg' 09/02/07.  (Ruud)
Little Gem Squash – "A classic squash that is very popular in S Africa. The fruit is roughly the size of a cricket ball when grown and is dark green in colour. It is a small plant (for a squash!) but a heavy cropper. "These are a perfect size for 1 serving. Best eaten late summer to early autumn. Although I have saved them until March, when they do get a bit stringier and drier. Cooking instructions – Pierce the skin several times and place in a pan of boiling water for approx 20 to 30 mins. Cut the top off (like a soft boiled egg) and scoop the seeds out. Put some butter and black pepper on it and eat with a teaspoon! It has a summer squash stringy texture."(1066)
Queensland Blue – These make big plants and they are strong growing big vines. Here they set well here, producing a fair to good crop of large fruits. A very handsome looking squash and they taste delicious, particularly good roasted with a dash of garlic. They are a fair size so lots of meals per fruit!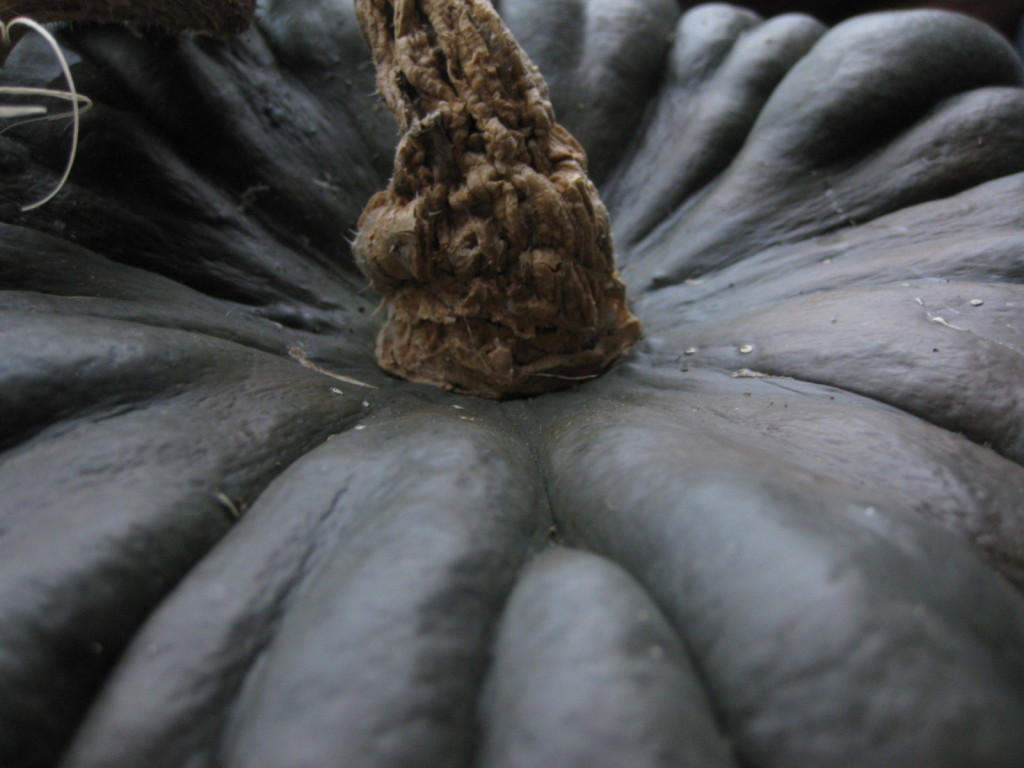 Radish
Black Round Winter Radish Erfurter – A large, black, round radish for winter harvest. These survived well under a fleece cloche during a cold winter. Dual use: can be grated raw to give hearty mixed winter salads a bit of oomph. Or can be boiled similarly to turnip. As a boiled vegetable it loses all its heat. Sow from late July. Rich in vitamin C. Picture shows winter salad ingredients with Radish Erfurter Black in the centre. (Galina)
Orach
Red Orach – "Beautiful plant, with foliage colours ranging from pinkish-red, through brilliant ruby to a moderately deep purple. Young leaves add greatly to colour interest in salads, and its taste is fresh and mild if picked young. Its blooms are not what one would call showy, but rather are interesting. The individual plants can get quite large as well, up to about three or four feet tall and wide, but they vary greatly in habit with some being much more spindly and some being squat and bushy.
Red Orach is a hardy, annual vegetable suitable for full sun and is most ornamental in the kitchen garden. It is easier to grow than spinach, and more tolerant of heat, cold and drought. Sow the seed early in the spring, as early as the soil can be worked and harvest the young leaves like spinach. It takes about 40 days from sowing to harvest under ideal growing conditions." (lottiedolly)
Tomatoes
Blaby Special – A  traditional red (Markfield rover)
Black Cherry – A cordon with a regular leaf. These are productive plants producing good size trusses of purple/black cherry tomatoes. They have a sweet, super flavour and are great for eating from the vine, also look particularly good in salads mixed with other coloured cherries. (1066)
Blue (OSU) – Bred at Oregon State University and not officially released. A cordon variety with regular leaves which notably can take on a blue-black colour from strong sunlight. Fruits ripen to red but where they have been in sunlight the skin is coloured almost black.
Lottiedolly describes this as "a cordon tomato and needs full sun to get as much blue colour as possible, mine was not actually too bad a flavour, there are better flavoured tomato's out there, but for the novelty value of having some blue tomatoes in your mixed tomato salad at a family buffet, is quite fun and is definitely a talking point. Gave quite a decent crop over a longish period of time."(lottiedolly) Added 12.11.2011 "I have just found out that this tomato is soon to be released for general sale under the name of 'Indigo Rose' because of huge public demand."(galina)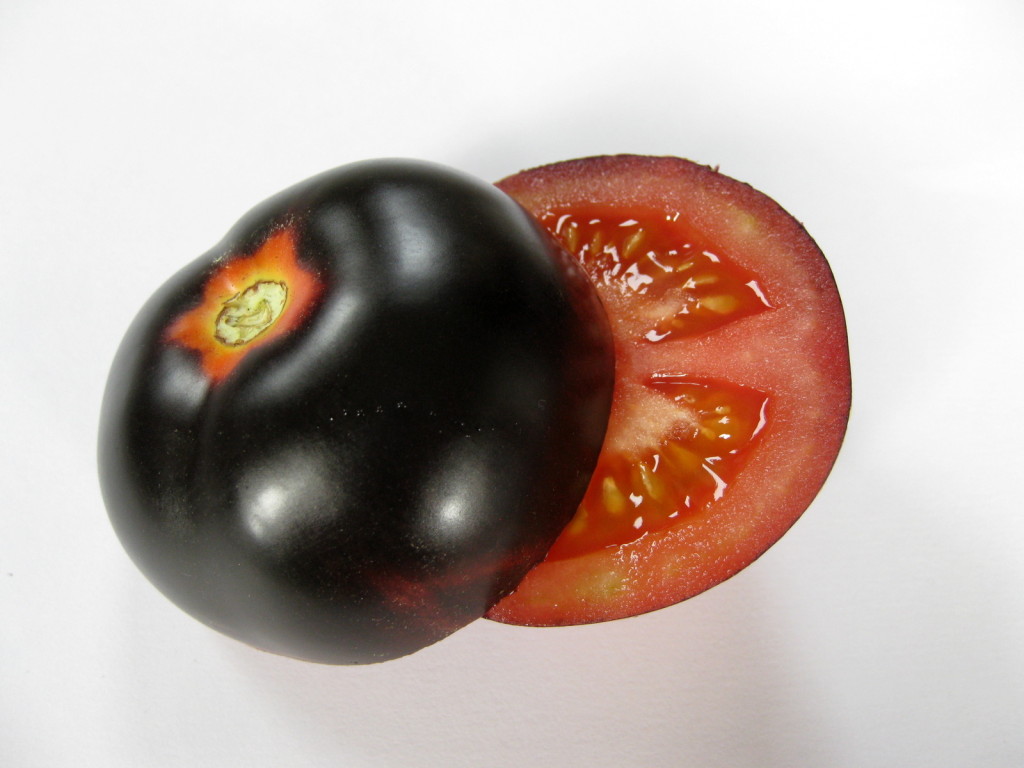 British Green Tiger – This is a cordon, regular leaf variety, producing beautifully deep deep red large cherry fruits with stunning dark green stripes. Texture is firm with good flavour and nicely sweet. Very good cooked as they hold their shape well. Most likely a hybid, but does appear uniform in traits from grow outs.  Plot 51A describes these "As the famous M&S tomato. Found it prolific when it finally got round to producing fruit, interesting coloration, rather thick skin. Hope others may be interested in growing some." (plot51A)
Fablonelistnyj – A very tasty yellow, flat cherry (Markfield Rover) Description from HSL catalogue. "Indeterminate, Cordon. Donated by Paul Parker of Leicester University, who noted it as being a "very sweet small tomato". Guardian Stella Jackson thought them "a first rate trouble-free tomato. Flavour is excellent, very sweet. Does not seem to affect arthritis (as some red varieties do)". Dianne Bailey comments "You will never get bored with this yellow variety, it cooks well, but you won't be able to resist its sweet flavour long enough to get it into the frying pan" Guardian Helen Homewood adds, "a must in any salad bowl and once picked will last in an eatable condition for several weeks".
Falcon – Falcon is a commercial tomato from Turkey. Red fruited, indeterminate (cordon) and needs pinching and staking. Donated by Ruud
Galina – A cordon, potato-leaf yellow cherry. Full name is Galina's Yellow although it is often just called Galina/Galina's. This is an heirloom variety originating in Siberia and is a good producer of really tasty yellow cherry tomatoes. Good doer for cooler climes. (SueK)
Mexican Honey – A red cherry tomato, cordon with regular leaf. Very sweet and scrummy, I haven't found out much more about this variety, although stated as Mexican in origin. My plants were grown from seed originating at Tatiana's Tomatobase. I grew my plants  in a polytunnel and found them to be vigorous growers producing a good crop. Flavour was a little disappointing early in the season, but rapidly improved. A tasty little number I will happily grow again. (jayb)
Silach – This variety originates from Russia. A red, very early, determinate (bush) tomato. Shared by Ruud.
Urbikany – Interestingly I found this variety described as both a bush and a cordon! It has a regular leaf and originated from Czechoslovakia. Plants are often described as early and produce red round fruit which are sweet and juicy. Suek describes them as "A bush, late summer variety (here in Yorkshire)." (SueK)
Yellow Furry Hog aka Furry Yellow Hog – A regular leaf, cordon variety. Developed by Brad Gates at Wild Boar Farms (US), plants produce slightly furry yellow fruit with paler yellow stripes when ripe. Great taste, rich tomato flavour, great sliced in salads etc (Ruud)
Useful Reading
Back Garden Seed Saving, by Sue Strickland
Breed Your Own Vegetable Varieties, by Carol Deppe
The Seeds of Kokopelli, by D. Guillet
100 Heirloom Tomatoes for the American Garden by Carolyn Male.
(Although aimed at the American gardener and much of the book is dedicated to the 100 varieties (my mouth waters looking at the pictures) there are a couple of useful chapters Saving Seed and Creating your own Heirloom tomatoes.)
    Helpful Web sites/pages
Real Seeds, Seed Saving
Heritage Seed Library
Irish Seed Savers, Research
Seed Saving Videos from Raven