Seed Parcel 2016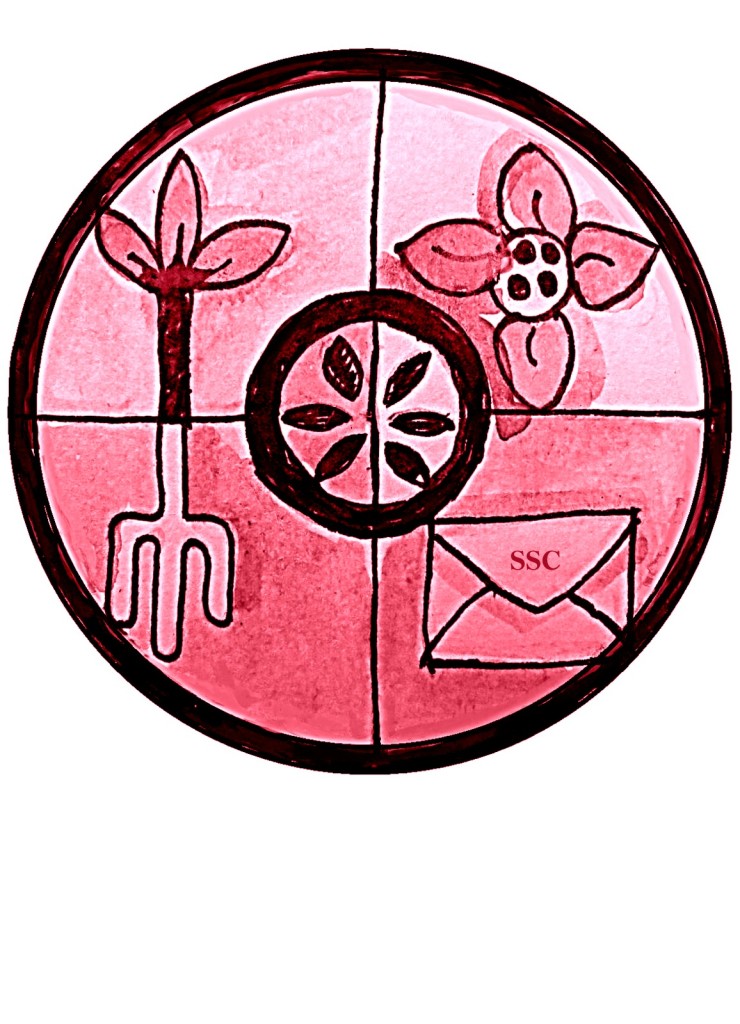 Alliums
Potato Onion grown by Penedesenca, who writes: Originally from Poyntzfield Nursery. They can be planted in Autumn, however I plant mine in Spring to reduce the risk of any rotting off from the weather. Each onion will multiply and will usually give 5-7 onions ranging from marble size to golf ball. They are a mild onion and work well in place of shallots, although I find they tend to store better. I have been growing mine for around six years and it was only last year I had a couple flower, so very unusual. I have never noticed a difference between planting small and large onions but there is a belief that small onions give large onions and large onions multiply (in my experience it is cobblers).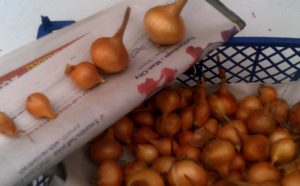 Multiplier Leek from galina.  OS goodlife.  This is very likely the perennial wild leek that is still growing in Wales in a few coastal locations and the reason for the national symbol.  I got a clump of baby leek plants to start me off from goodlife a couple of years ago.  They grew into sizeable leeks and then flowered, rather than multiplying!  This was unexpected, but is a bonus for the seedcircle.   However, after I had cut the scapes to dry the seedheads and get the seeds,  several leek babies appeared all around the rest of the old leeks.  I will transplant these as soon as the weather gets a little warmer and harvest later in autumn and winter.  The leeks in  this video from Australia are either the same or very similar and I am growing them this way too.
Pictures (by galina) show the original tiny leek plants from goodlife and the mature leeks just starting to develop flower scapes.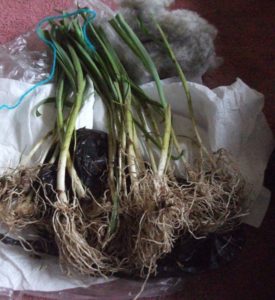 Broad Beans (Vicia faba)
Syrian  Black from galina.  I received this broad bean from Dutch seed conservationist Jaap Vlaming, who has also given a sample to HSL, so they are the same.  Small podded bean with 4 or 5 shiny black seeds inside.  The plants are a little shorter than ordinary broadbeans with multiple pods on every node and each bean is a little smaller that other broad beans.  From a distance they look more like coffee beans.  They taste just a little stronger than white beans.  Jaap got these directly from Syria, but they grow very well in Britain too.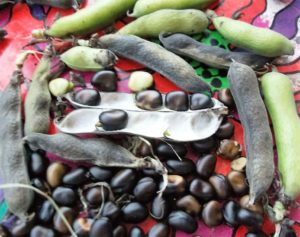 Climbing French Beans (Phaseolus vulgaris)
Gramma Walters is an easy to grow drying bean, originally from Salt Spring Seeds in Canada.  I prefer not to let them dry, but shell and freeze when the seeds are fully developed. from galina
Viola Cornetti from galina – is a lovely dark purple podded bean with some purple on the stems too.    The pods are very long and early too.  Very good  'green' bean.  My OS was Thomas Etty.  There is a bean called 'Viola di Cornetti' from Heritage Seed Library (not my seed source) and from a picture on  Adam Alexander's blog I assume it is the same bean,  despite the slight difference in name.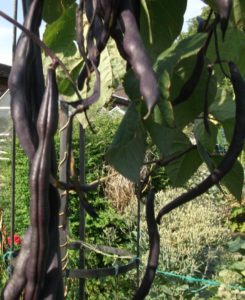 Monachelle di Trevio climbing bean: Seeds originally came from Baker Creek as new entrants on the 2016 catalogue. Italian origin – rare heirloom drying bean, grown for drying beans, not for fresh pods. Vines climb to 10-12ft, with white flowers and flat green pods which rapidly turn lumpy with swelling beans. Heavy croppers. Beans are very pretty – bicolour burgundy & white with burgundy spots, similar to red calypso beans but lighter.  From sparrow.
CFB Georgian # 7 from ruud.  Galina writes:  This bean came from Jaap Vlaming, who in turn got them from a friend directly from the Republic of Georgia.  He received many different beans all of which  arrived without names.  Jaap simply numbered the packets and this was the bean variety in packet number 7.  A robust, fairly late Ph. Vulgaris with large, meaty pods.  The seeds inside develop early which makes this an excellent shelling bean.  But they are even better, in my opinion,  eaten as snaps.  Tall robust bean.
Blauhilde from ruud –  This is a very high yielding bean with long, purple 'pencil pods'.  To be used as green bean.    Here is a full evaluation from Garden focused.
Flagg bean from ruud – this is not actually a lima bean (phaseolus lunatus) but ph vulgaris, however the large flattish seeds look like a lima aka butter bean.  With an amazing colouring like the night sky with stars.  Named after Gale 'Flagg' who collected them, also named 'Chester' beans as they were collected from a farmer there.  However it is originally an Iroquois native American bean.  There is a near identical bean from the Senecas, which is called ' Skunk'.  A tall growing and very rare bean which is used as a shelling and drying bean.
Dwarf French Beans
Goose Gullet from Clumsy.  These very attractive beans originate from Acadia (Maine in USA and Southern Canada), with a legend attached:  They were found in the crop of a goose, grown and became an  important food source for the Acadians.  OS Hopeseed.
Brassica 
Winter Radish Erfurter or Black Erfurt is a radish that can either be sown very early in the year or very late for overwintering.  Mine are outside over winter with a layer of fleece and they are perfectly hardy.  These radishes are nearly as large as a fist and can be either grated into winter salads or eaten peeled, sliced and cooked.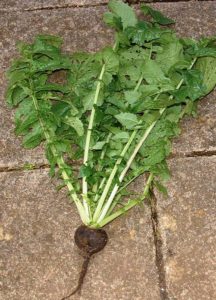 Kale Cavalo Nero seeds from Debs.  Cavolo Nero also known as 'Tuscan Kale'.   Extremely cold hardy, will tolerate most conditions, even part shade.  Flavour improves after a hard frost.  Sow seeds 1/2″ deep in rows 9″ apart seed bed from April onwards. For best results, full sun and good drainage.  Plants benefit from touch of frost before harvest, which will sweeten the taste.
Broccoli Italian Green Sprouting seeds from Debs.  Sow March-July to avoid first caterpillars.  To get early crop in June, sow under cover in modules, or in seed bed outside, from mid to late march until end of May. space plants 30cm apart.  Can be sown direct April to June.
Protect from eggs of cabbage white butterfly.
Grains
Sweet corn Early King x Golden Bantam grown by sunloving who notes.  Just an experiment really with two strong and early growers. Kernels already show small proportion of black which indicates a mixed heritage ( black kernels are just as yummy as yellow ) did great in muddy wet irish summer I ate them raw for lunches on many days lovely and sweet even without the sun. Mixed both ways( king pollen on bantam tassels and bantam pollen on king tassels.)  pot luck!
Black Quinoa, from earlypea.  Also see below under herbs.  Original Source was Brown Envelope Seeds, who write: ' A short season variety from Colorado, where it is grown at high altitude…… Although it was sown late, due to the cool spring, it did well and matured in September. The advantage of this variety….. is the ease of removal of the saponins (soapy/bitter tasting substance coating the seeds (galina)). It only requires  a couple of changes of water while cooking.'  
Herbs and Edibles
Black Quinoa.  The leaves and seeds are eaten.    More here   including a growing guide.
Alexanders.  Seeds were grown by martinburo who writes that they are 'something halfway between a vegetable and a herb. It's fairly hardy and thanks to the mild winter we're having this year it's still growing now. Biennial (I think. Because I let it self-seed I'm not quite sure whether it might be perennial.)'  And he adds the following observations regarding cold stratifying Alexanders and Chervil seeds:  'I don't think I stratified chervil or Alexanders. But when I google it, it does say that Alexanders needs stratification, and as I said, apart from the first year, which I may not remember correctly, I let it self seed whereby it gets stratified by nature, so it might be best to sow half as soon as you get them and stratify the other half in damp soil in the fridge for 90 days.'
Chervil  from martinburo,  This is a lovely herb, related to parsley and a 'must have' for French cuisine.  Martinburo added:  'I hope these seeds are ok. Some maggots were growing in this, so I had to redry them at a high enough temperature to kill the maggots. I then left them for ~6 weeks to check that no new maggots were going to grow in them, but I hope that the high temperature didn't kill the seeds as well'
Lettuce (Lactuca sativa) 
Lettuce Liller from Penedesenca.  Originally from Heritage Seed Library.   'A huge cabbage-headed lettuce that can weigh anything up to 500g. The unusual pink tinge on leaf margins is temperature-dependent, apparent on planting out the young plants in the spring, but disappearing as they start to mature. Leaves are large, full and smooth, ideal for adding to a sandwich.'
Cressonnette Marocaine from galina.  This is a very crispy looseleaf lettuce with dark green leaves with crunchy ribs.  The plants last well into summer without bolting.  My seed source was the Organic Catalogue, however they don't list this lettuce any more at the moment.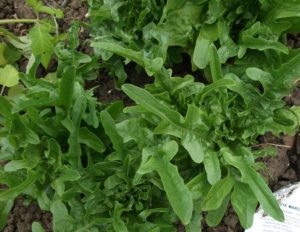 (picture galina)
Lettuce Balloon Cos from galina.   A large cos lettuce, but with slightly looser leaves than some, making it 'balloon' out.  Grows very easily and produces big heads for summer salads.  Not the earliest lettuce for spring greens, but a very good follow on lettuce for summer bbqs and salad lunches.
Tubers (dioscorea batatas)
These cinnamon vine bulbils were from martinburo, whose original source was aj.  Here is some more info
Roots (Parsnip pastinaca sativa)
Parsnip F4 from Martinburo, his own parsnip landrace cross
Peas (P. sativum)
Salmon flowered pea grown by sunloving, who writes:   'this came from Galina or goodlife in 2012 meet up? Grows with a fasciated stem and produces flowers and fruit in a flush at the crown. Makes a great early show of pink flowers. Pods have around 4-5 peas for shelling as not super sweet for eating raw. but really useful to have them all ready at once for harvesting.'   Galina adds: 'this type of pea is also known as crown pea, because the tuft of flowers and pods held high on 2-3ft fasciated stems, looks somewhat like a crown.  Used to be grown in Victorian times, now very rare'.
Peas Lincolnshire from Markfield Rover.  Wrinkle-seeded variety.  To quote from HSL 2013 catalogue:  Donated by Rita Inchley, this compact (1.2m) variety produces white flowers and plump pod packed full of juicy peas.
Peas Sharpe's Liberty from Markfield Rover.  OS HSL who write:  No, not a Bernard Cornwell novel featuring the dashing soldier fighting in the Napoleonic war, but a rare variety of pea. Sharpe & Co, Seed Merchants, were based in Sleaford, Lincolnshire from 1913 to 1983. Growing up to 2m in height this variety produces white flowers followed by a good crop of shortish, blunt pods containing 6-7 round seeded peas in each .  The seeds are perfectly round with a black hilum spot.
Peas Llanover from Markfield Rover.  Info from Heritage  Seed Library.    " This is a tall, vigorous variety that needs strong pea sticks to support the large, green pods produced. They were grown for many years on the Llanover Estate in Wales from seeds brought to the UK by a German prisoner of war (WWI). Once the war was over he returned to marry a Welsh girl and continued to work on the estate."
Pea Early Alaskan from sunloving.  Early producer of sweet shelling peas on 2-3ft tall vines.  More information here.
Peas Ave Juan from Markfield Rover.  MR's donor was Adam Alexander who writes: ' I was given this wonderful pea by Catalan seed guardian Jesus Vargas.  His grandfather had bred it and named it after his grandmother some fifty years ago.  Until Jesus gave me some seed,  he was the only person in the world growing this heirloom.  The plants are tall – to 2 metres – with large flowers, mostly in pairs, that are a magnet for bees.  The pods are long and large with up to ten large and sumptuously sweet peas.  A good cropper which continues to flower over many weeks.'
Peas Champion of England from Markfield Rover.  Information from  RealSeeds   "Champion of England is a really good, traditional tall pea to 8 – 10 ft, dating from the 1840's. But it was unavailable, other than seed banks, for a long time. A few people sent us small samples of seed from time to time, but we couldn't get them to grow. All that changed though when Robert Woodbridge got in touch with a new strain of family-saved seed from Lincolnshire in the 1940's.  It grew really well, and more importantly, was true to the old descriptions. It was fantastic – the only reason tall peas have been abandoned commercially is that you can't harvest them with machines. But for home gardeners, they give a great return for a small space."  I had pods with up to 11 peas inside (galina).
Peas Newick from Markfield Rover.  Information from HSL 2012 catalogue:  A round-seeded variety.  This variety was grown by our donor's family in Sussex during the 1970s.  Growing to around 120cm, white flowers are replaced by straight, green pods that are delicious at the mange tout stage as they are neither fibrous nor stringy.
Pea Unity from galina.  My seed donor was Jayb and the OS was Silverleaf who obtained this variety from a seedbank and named it Unity.  Unity is a tall growing shelling pea with non-sweet peas that have a black hilum spot.  They are very 'meaty' in winter stews and soups.  But the unique feature of this pea is the crimson flower, a real 'look at this!'  trait.  Not only did they bear quite a heavy crop for the kitchen,  but the visual appeal in the garden is stunning too.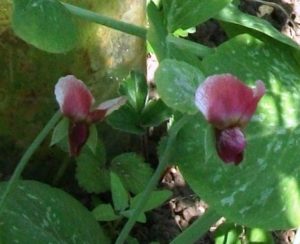 (picture galina)
Pea Purple Lancashire Lad from galina.   This is a working name.  How this came about is written up here:
Briefly, the purple podded pea from Heritage Seed Library we knew and loved as Lancashire Lad, turned out to be wrong and the Real LL is actually green podded.   There is nothing worse for a heritage variety than being stripped off its heritage  The pea itself has done absolutely nothing wrong to deserve this!  It is an early maturing, tall,  purple podded shelling pea and the pods are easy to find.  Grows well in all weathers.  Best of all  Purple Lancashire Lad yields pod after pod with nine seeds inside.    In order to prevent this variety from slipping into oblivion (HSL don't carry it anymore), I have added it to the seed circle under its given name of 'Purple Lancashire Lad'.  As far as history goes, it is an old variety and probably dates back to Victorian times or even older.  A tall pea that needs support.
Pea Sugar Magnolia from galina.  My seed source was Jayb.  This continues our collection of Alan Kapuler bred modern pea varieties.  A purple snap pea grown on robust, tall plants that need support.  These stood up to mildew quite well and lasted longer than other peas.  Alan Kapuler originally supplied these both as seeds from hypertendril plants (semi-leafless) and also with normal pea foliage.  This selection is from hypertendril seeds and all mine were also showing this trait.  This is useful for gardeners because the peas are grabbing hold onto each other and to their support structures with their hypertendrils, very useful for windy sites.  The delicious snap pods were all borne singly (one to a node), but Jayb has seen doubles too.  A really special pea.
Magnolia Blossom Tendril (semi-leafless) pea from sparrow: Seeds originally came from Baker Creek as a new listing.  New hypertendril sugar snap which climbs to 7-8ft so needs support. Flowers are a pretty pink & crimson and are followed by small green pods. Pick the pods before the string turns red for the best flavour. They are prolific croppers, but not great as shelled peas. Pods contain 3-6 peas. They are the best-tasting sugar snaps I've grown.
This is another modern pea that has been bred by Alan Kapuler.  (galina)
Mangetout Pea Winterkefe by earlypea, who notes:  'Prolific, hardy, beautiful – I get major compliments over this early beauty.'  Tall pea that needs support.
Pepper, Chilli (Capsicum)
Capsicum chinense Aribibi Gusano from Clumsy.  OS Trade Winds Fruit  Also known as " Caterpillar Pepper.  An exotic chinense pepper variety having wrinkled, slender, white fruits with a strong and hot, citrus flavor.  The explosive heat comes as fast as it goes.  The fruits can grow up to 1 1/4″ and ripen from green to creamy white."  These peppers are hot, a little goes a long way.  Not more than one for a hot dish.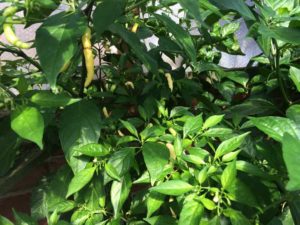 (picture by clumsy)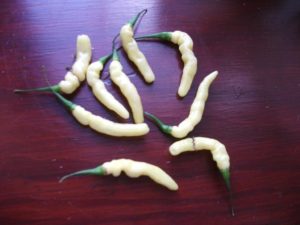 Chili Beni Highlands from clumsy.  Capsicum chinense.  Fairly tall plants to 3ft.  The elongated teardrop shaped fruits turn from yellow to deep golden yellow at maturity, they don't turn red. They are pretty hot, but not lethal, with a nice citrus flavour.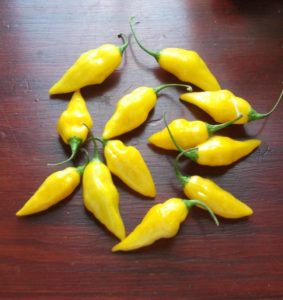 Bird's Eye Chilli  from clumsy.  These are very hot chilis.  The inch and a bit long, slender fruits ripen to red but can be eaten at any stage.  The plants can get quite tall.  These are the main chillis used in Asian and East Asian cooking.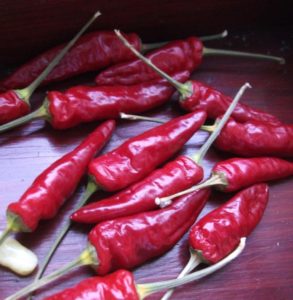 Mild hot Banana Pepper from clumsy.  This is a 5 inch red pepper that clumsy has grown many times, but the name disappeared. Similar to the Anaheim Pepper.  It is a very mildly hot pepper, good in salads or stuffed with cream cheese.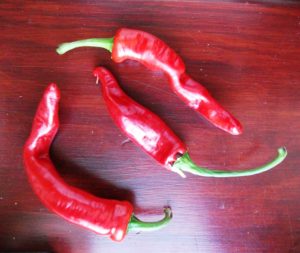 Black Hungarian chilli (c.annuum): Beautiful tall plants with purple and white flowers & dark green foliage. The 4-5cm chillies turn black and finally a dark red. Very mild when they are black, the chillies are similar in heat to jalapenos when red and have a lovely fruity heat. Great for drying and grinding but I had major problems with slugs scraping the plant stems in 2016.  From sparrow.
Chilli Biquinho (capsicum chinense) from sunloving:   Small orange chilli mild and tastes of pineapple.  I isolated these with net curtain but also grew Hungarian carrot and sweet bite peppers so there may be a bit of movement in shape and heat.
Pretty in Purple by galina.   Mildly hot peppers which are just what the name says.  These are almost ground cover outside and well behaved in a small pot on the window sill too.  Very ornamental, grape-sized small chilis, shiny purple ripening to dark orange red.  Some fruits are round, others a bit more elongated – there are both types on the same plants.  There is also purple in the foliage and in the flowers, which are white with the purple tinge.  Really delightful to look at, nice to cook with for those who don't like too much of a burn from their peppers (two fruits for mild hot dishes, one for just a hint of spice).  The plants make good presents.   My seeds originated from the amazing seed swap parcel that Jeannine and Jayb organised a few years ago and I have grown them twice since from own seed.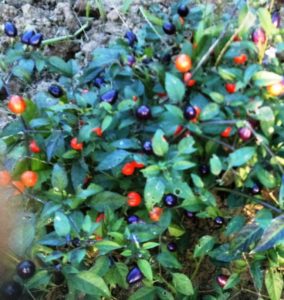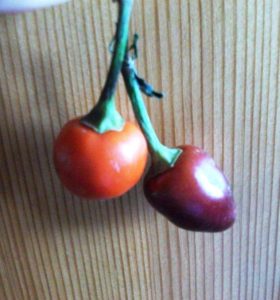 Turkish Pepper seeds from ruud
Pepper, Sweet (Capsicum annuum)
Macedonian Sweet from pumpkinlover.  Original Source Heritage Seed  Library. Lovely sweet tapering fruit.  HSL describes this pepper thus:  'Donated by G Twigg, from a collection of seeds obtained from his son-in-law's parents who had a smallholding near Gostava, Yugoslav Macedonia. So named because of the seeds' aroma. Produces green peppers that turn dark red when mature. Seed Guardian Jane Rickerby found that they performed well even in her Cumbrian location. Guardian Bev Mumford adds, "an excellent variety with sweet, juicy flesh." Milder than a chilli, but still has 'bite'. '
Sweet Pepper Tsygansky Baron from galina, OS goodlife.  Goodlife added this lovely pointy pepper to the circle and it absolutely deserves to be offered again.  I was really pleased how well the plants grew.  Did not even have them in the greenhouse, just under a cloche in the garden.  Very pretty with a lot of purple in the foliage and flowers too.  New fruits are shiny dark purple and ripen to brownish purple.  Very sweet and so easy to grow.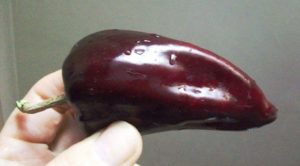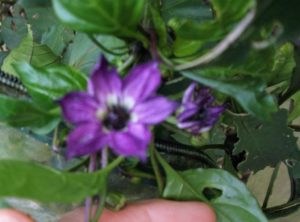 Cucurbita Cyclanthera explodens
Achocha Exploding Cucumber from Penedesenca.  Original seed from Real Seeds who say that this is a close relative to Achocha Fat Baby.  Should come with a health warning, but only for very mature fruit who spontaneously spring open and shed seeds with great speed.  Young fruit are quite safe.  A fun relative to cucumber.
Solanum Melongena (Aubergine)
Aubergine green/white round    Seeds (originally sourced from India) and description from Elfeda:   ' it is very much stripy green and pale with round shape.'  A small fruited aubergine.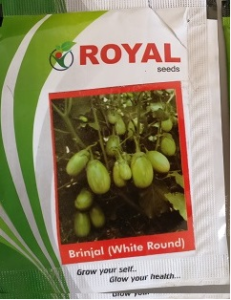 Tomatillo (Physalis philadelphica)
Purple tomatillo from earlypea.  It is advisable to grow at least two plants for good pollination (galina)
Tomato (Lycopersicon lycopersicum)
Berkeley Tie-Dye tomato (cordon): 'Seeds came in a swap for oca with Thomas Etty. Tomatoes are large salad size. They are stunning: a reddy-brown colour with green stripes and a strong, full-flavour. Not blight resistant at all. Leaves are long and droopy – plant can look ill or thirsty  when it isn't. Tomato shape can vary.'  Seeds and info from Sparrow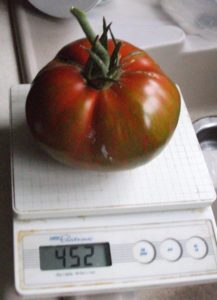 Tomato Ping Pong (aka Pink Ping Pong) from pumpkinlover.   Pink small fruit on indeterminate plants.  OS  Heirloom Tomatoes (now no longer trading).  More info and photo from Tatiana's Tomatobase:
Tomato Black Prince from pumpkinlover.  Also from Heirloom Tomatoes.  Indeterminate with medium sized,  chocolate brown salad tomato with rich flavour.   Picture here:
Tomato Giant Roo from ruud who writes:  'Giant roo is an very rare australian tomato.It grows very tall and need staking.  Big red blunt heart shaped tomatoes,who can grow to a weight between 500-1000 grams.  Better off in a greenhouse'
Zaitska from ruud with this description: 'Zaitska is a red tomato from russia,big plants with a great crop of middle sized all use tomatoes.It was one of my favourites last year.   Better off in a greenhouse.'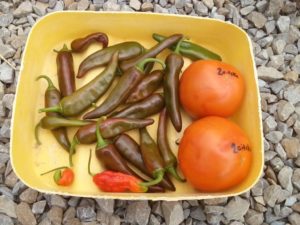 Stripes of Yore seeds from ruud.  This is a modern indeterminate tomato bred by Tom Wagner.  It has been released with some variability still evident, for gardeners to choose what does best for them.  Descriptions can vary slightly from what is growing from these seeds.  But the colours should be an amazing purple/black blush and brownish stripes overlaying an amber yellow fruit.   Fruit size may vary between large salad and small beefsteak tomato.    Info and pictures from Tatiana's tomatobase.
Like Surender from elfeda.  Seeds were originally sourced from India but very similar or identical to Victoriana's 'Surender's Indian Curry'  tomato.  A fully flavoured 'sour' = non-sweet or savoury bush tomato that is ideally suited for Indian cooking or for tomato sauce.
Gazzi Yellow Egg from Markfield Rover.  She writes:  'has done well and is now my favourite yellow tom, sometimes you can see why fruit falls out of favour and becomes rare but this a good'n.'  HSL has this origin information:  'Dr Susan Arregger, an English botanist who has lived in Italy since 1963, bred this variety. It is an early variety and really needs a glasshouse to perform at its best. The small, yellow fruits have a distinctive egg shape (hence the name), delicious sweet flesh and acid juices.'  Info here:
Aurora from earlypea, who says:  'a bush, sauce-type. (normally second earliest).'
Grushovka from earlypea who describes it thus:  bush – Very pink.  Type -half-way between a plum and an ox-heart (normally a week or two later).
Orange Mask from ruud
Taking part:
Elfeda  Indian bush tomato 'Likes of Surender', Aubergine green/white round                        
Markfield Rover Selection of Peas:  Ave Juan, Champion of England, Newick, Lincolnshire, Sharpe's Liberty, Llanover.  Tomato Gazzi Yellow Egg
Penedesenca  Potato Onion,  Lettuce Liller,  Exploding Cucumber
Pumpkinlover Tomatoes Ping Pong and Black Prince, Macedonian Sweet Pepper
Clumsy  Chilis Beni Highlands, Bird's Eye, Aribibi Gusano, Mild hot Banana Pepper, Bush bean Goose Gullet
Martinburo   Alexanders, Parsnip F4, Cinnamon Vine, Chervil
Galina  Sweet Pepper Tsygansky Baron, Lettuce Cressonnette Marocaine, Lettuce Balloon Cos, Peas Unity, Sugar Magnolia, Purple Lancashire Lad, Chilli Pretty in Purple, Climbing French Bean Viola Cornetti, Gramma Walters,  Broad Bean Syrian Black, Multiplier Leek,  Radish Black Erfurt.
Debs  Kale Cavalo Nero, Broccoli Italian Green Sprouting
Earlypea  Pea Winterkefe, Tomatoes Grushovka and Aurora, Black Quinoa, Purple Tomatillos
Sparrow  Tomato Berkeley Tie-Dye,  Black Hungarian Chilli, Magnolia Blossom snap pea,  Climbing French Bean Monachelle di Trevio                                                                                                                                Ruud  Climbing French Beans Georgian # 7, Blauhilde and Flagg.  Tomatoes ( all indeterminate) Zaitska, Stripes of Yore, Orange Mask,  and Giant Rov.  Turkish Pepper.                                                                          Sunloving  Salmon flowered pea, pea Early Alaskan, Sweetcorn Golden Bantam x Early King, Chilli Biquinho
Seed Saving Information:
http://www.howtosaveseeds.com/seedsavingdetails.php#beans
At the bottom of most pages in the Real Seed Catalogue are seed saving instructions with pictures:
http://www.realseeds.co.uk/wintersquash.html
and here some of the basics:
http://www.realseeds.co.uk/seedsavinginfo.html
Seed saving instructions from Heritage Seed Library:
http://www.gardenorganic.org.uk/members/seed_saving/
Seed Saving for Schools from Heritage Seed Library, but there is very good information for everybody, not just students:
http://www.gardenorganic.org.uk/pdfs/Seed-Saving-in-Schools.pdf
Brief guidelines – their list of self pollinated vegetables are the easy ones for seed saving beginners. However 'beans' is too unspecific because runner beans and broad beans cross quite a lot and only one variety should be grown or the flowers should be bagged and hand pollinated in an allotment situation where there are lots of other runner beans and broad beans around. French beans can cross, but it does not happen too often.